CBCC Business After 5 | Leveraging our unique qualities
June 26 @ 6:00 pm

-

8:30 pm
The CBCC is glad to invite you to our June 2023 Business After 5 with the Hon. Steve Kamper MP
About the event
Canterbury-Bankstown is one of the most multicultural areas in Australia, known for its passion for sports, hardworking residents, business acumen, and a deep appreciation for our land and properties. These distinctive qualities make our community vibrant and unique.
Join us for an evening of insights on with the Hon. Steve Kamper, MP. Minister for Small Business, Minister for Lands and Property, Minister for Multiculturalism, Minister for Sport.
Our panel of expert speakers will share their views, followed by Q&A and networking.
Don't miss this opportunity to expand your knowledge and connect with fellow business leaders
During the event you will enjoy:
Key Speaker: The Hon. Steve Kamper, MP
Panel speaker
Q&A session
Networking opportunities
One course meal and drinks included
The Business After 5 events are a great way to meet the members of our local business community and share thought and ideas about business growth and opportunities in our area.
Live – Work – Play – Community
About the key speaker
The Hon. Steve Kamper, MP
Minister for Small BusinessMinister for Lands and PropertyMinister for MulticulturalismMinister for Sport
Steve grew up locally in the St George area and went to Sans Souci Public and James Cook Boys High. He ran a successful accounting firm in Rockdale for 30 years and raised a family of five with his wife Magda.
Steve is a successful businessman trusted by many local families and businesses, with both public and private sector experience, including as a former President of Sydney Olympic Football Club. He has been the MP for Rockdale since 2015.
Steve was sworn in as a Minister in the incoming Minns Labor Government on 5 April 2023.
Major Sponsors
Event Supporters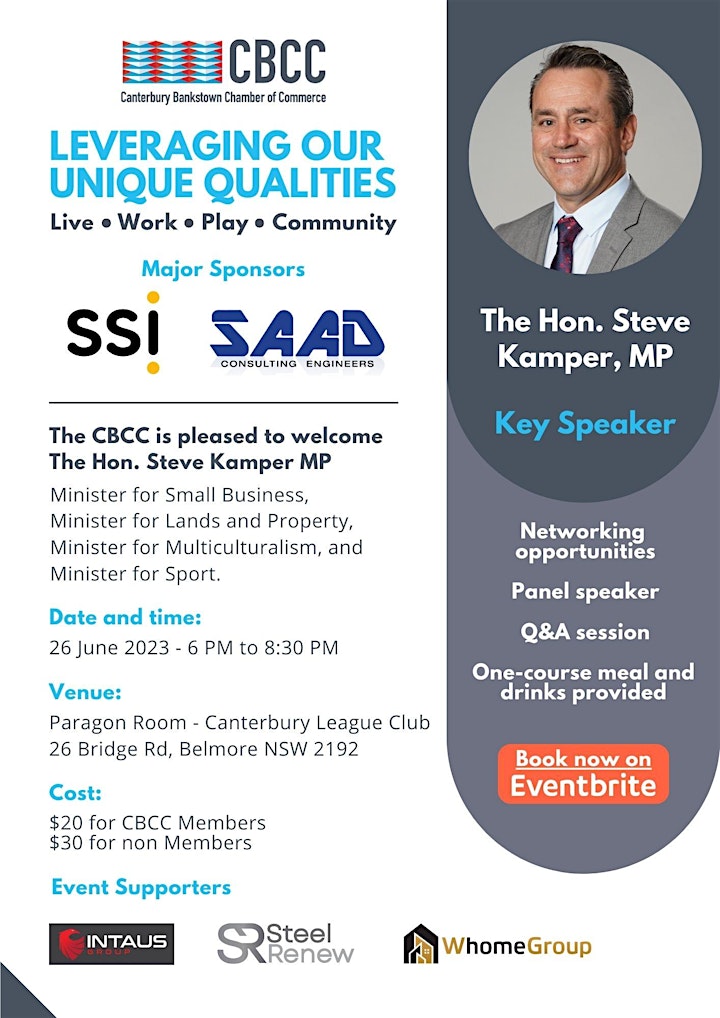 About the Canterbury Bankstown Chamber of Commerce
Established in 2017 as the SWCC, and now named the Canterbury Bankstown Chamber of Commerce (CBCC) was the first business chamber in Bankstown – decades after other chambers. It evolved from the need for an association for business owners or any entity or person engaged in commerce or trade from the Canterbury Bankstown Local Government Area (LGA) in New South Wales or anyone interested in doing businesses in our area or to invest or relocate to our LGA.
The CBCC facilitates opportunities for members to grow their business in Canterbury Bankstown and beyond, welcoming engagement from across the business community, local government, State and Federal Government alike. We believe in collaboration, diversity and the sharing of knowledge to be the formula for a more prosperous business community.
Membership is open to all. The CBCC provides members and guests opportunities to share knowledge, pitch their business, create a network, and be inspired. We do this by delivering our members a diversity of complimentary or subsidised events, services, opportunities, and partnerships – either directly, or by partnering with other organisations.
Contact us at ceo@cbchamber.org.au to enquire about membership, sponsorships, partnerships, or volunteering.
CBCC is a not-for-profit organisation run by Wally Mehanna, CEO and by volunteers.
IMPORTANT: Obtaining a ticket to an CBCC event also opts you into future communications for similar events. You can manage your subscription or unsubscribe at any time from the link in all of our emails.