2023 CBCC Annual Gala Dinner
November 18 @ 6:00 pm

-

11:00 pm
The CBCC Annual Gala Dinner is on again for 2023. Don't miss out on tickets to this sell-out event.
The Canterbury Bankstown Chamber of Commerce Inaugural Gala Dinner is on again for the 7th consecutive year.
You will be joined by Local, State and Federal Members as well as various Community and Business Leaders. Our aim is to celebrate and recognize the chambers accomplishments and milestones and to further strengthen ties between fellow members, friends, and the Community in general
It's the time of year when our members and friends come together to celebrate the year gone by. We hope you can join us for a sumptuous 3-course meal accompanied by a live band. Inclusive of beer, wine and soft drinks.
Thank you to our sponsors for making this night possible:
Diamond Sponsor
Corporate Sponsors
Platinum Sponsors
Any questions relating to ticket/table sales, please contact Wally Mehanna – CEO on 0416 012 747 or email ceo@cbchamber.org.au.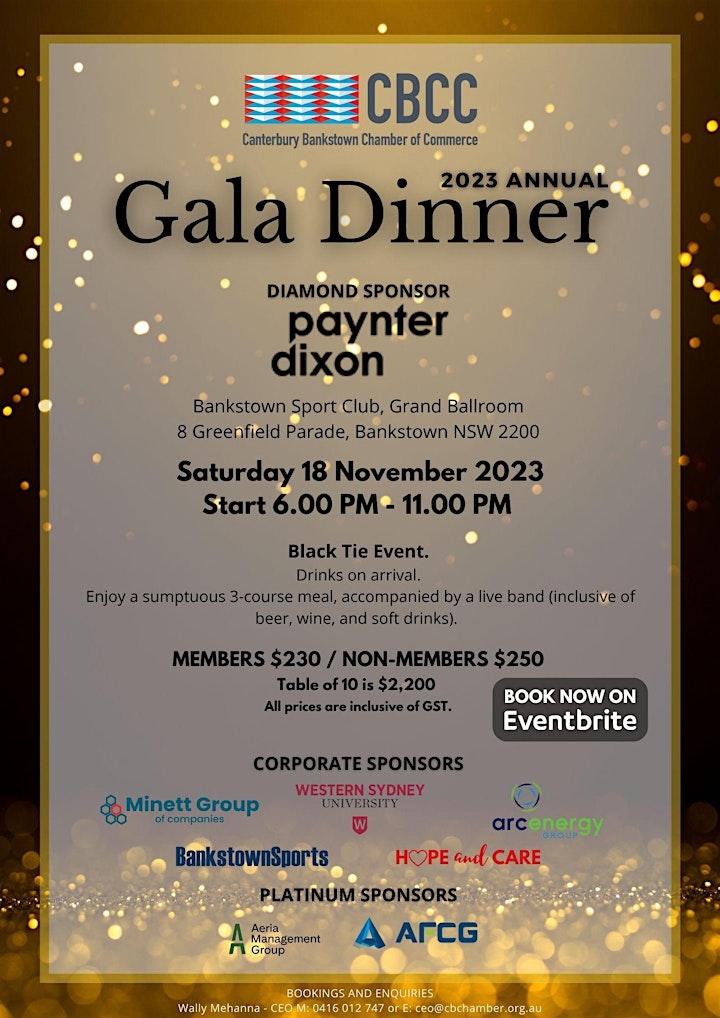 2022 Gala Dinner Highlights
About the Canterbury Bankstown Chamber of Commerce
Established in 2017 as the SWCC, and now named the Canterbury Bankstown Chamber of Commerce (CBCC) was the first business chamber in Bankstown – decades after other chambers. It evolved from the need for an association for business owners or any entity or person engaged in commerce or trade from the Canterbury Bankstown Local Government Area (LGA) in New South Wales or anyone interested in doing businesses in our area or to invest or relocate to our LGA.
The CBCC facilitates opportunities for members to grow their business in Canterbury Bankstown and beyond, welcoming engagement from across the business community, local government, State and Federal Government alike. We believe in collaboration, diversity and the sharing of knowledge to be the formula for a more prosperous business community.
Membership is open to all. The CBCC provides members and guests opportunities to share knowledge, pitch their business, create a network, and be inspired. We do this by delivering our members a diversity of complimentary or subsidised events, services, opportunities, and partnerships – either directly, or by partnering with other organisations.
Contact us at ceo@cbchamber.org.au to enquire about membership, sponsorships, partnerships, or volunteering.
CBCC is a not-for-profit organisation run by Wally Mehanna, CEO and by volunteers.
IMPORTANT: Obtaining a ticket to an CBCC event also opts you into future communications for similar events. You can manage your subscription or unsubscribe at any time from the link in all of our emails.