The CBCC working with the United States Consulate
September 1 @ 11:45 am

-

2:00 pm
By Invitation Only. Special CBCC Event. How does your mindset influence your experience and success as an entrepreneur?
Interview with Michelle Zou
Founder and CEO at Pacific Technologies Consulting Group (PTCG)
Michelle Zou spent 30 years in the high-tech industry. Here she will share her stories of how she transformed from a business leader at Microsoft to a series startup founder, how she used design thinking to help her and team generate and experiment ideas. She will also give you a few key learnings to help you embrace your entrepreneurial journey.
Panel Discussion
Let's learn from each other, cultivate relationships, seize opportunities, and grow together. Our panel of experts will discuss Culturally and Linguistically Diverse Women returning to work after injury and disability, and why we need to think differently about employment strategies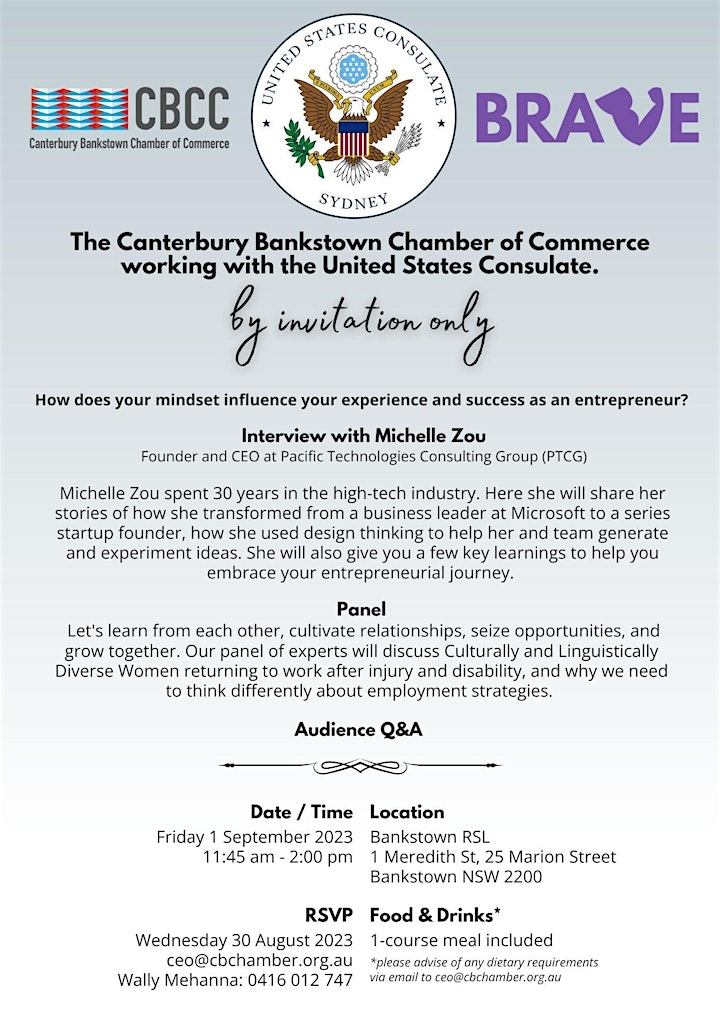 About the Canterbury Bankstown Chamber of Commerce
Established in 2017 as the SWCC, and now named the Canterbury Bankstown Chamber of Commerce (CBCC) was the first business chamber in Bankstown – decades after other chambers. It evolved from the need for an association for business owners or any entity or person engaged in commerce or trade from the Canterbury Bankstown Local Government Area (LGA) in New South Wales or anyone interested in doing businesses in our area or to invest or relocate to our LGA.
The CBCC facilitates opportunities for members to grow their business in Canterbury Bankstown and beyond, welcoming engagement from across the business community, local government, State and Federal Government alike. We believe in collaboration, diversity and the sharing of knowledge to be the formula for a more prosperous business community.
Membership is open to all. The CBCC provides members and guests opportunities to share knowledge, pitch their business, create a network, and be inspired. We do this by delivering our members a diversity of complimentary or subsidised events, services, opportunities, and partnerships – either directly, or by partnering with other organisations.
Contact us at ceo@cbchamber.org.au to enquire about membership, sponsorships, partnerships, or volunteering.
CBCC is a not-for-profit organisation run by Wally Mehanna, CEO and by volunteers.
IMPORTANT: Obtaining a ticket to an CBCC event also opts you into future communications for similar events. You can manage your subscription or unsubscribe at any time from the link in all of our emails.